Available now a local family social sports game that anyone really can play, called AFLS. 

AFL stands for Australian Football League, the S = Social.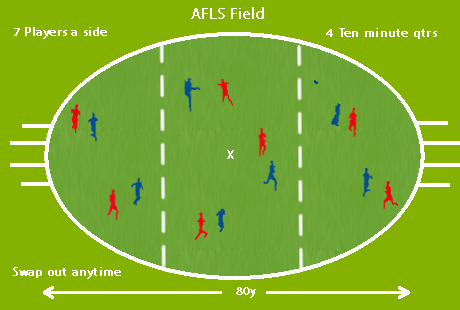 The game is played 7 aside, on a field 75-90 yards in length normally used for soccer or football (but normally will be slightly oval shape) and these are men's, women's and co-ed games.  The game is entirely safe like any other Recreation sport, so is a 100% non tackle and non contact game everyone can enjoy. It is great for keeping yourself and the entire family fit and active during winter or the whole year round. The added bonus is having a ton of fun and meeting many new friends. You might even meet some Aussies!
Teams are forming now so as an individual and we will place you on a team that needs you. And you only need 7 players to play. We prefer a minimum of 3 women on the field at any time and they score higher points when they kick a goal, so ladies come on down. Players can rotate on and off the field at any time for a rest, so a few extras will come in handy.
Even young teenagers as young as 13 can play with parents full permission, so it can be a fun sport for the whole family. The games are played with 4 x 10 minutes quarters.
Teams will receive a high quality T-shirt that they can keep, have access to coaching and instruction and each you get to join in after game social events.

Fully trained referees, fields and all equipment like footballs are provided. And of course league and game results will be published right after the game.