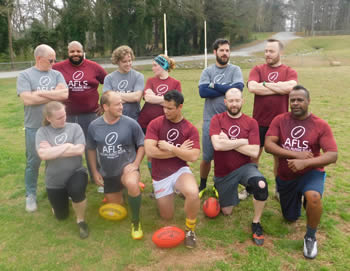 It does seem with some players having 15-20 of these Atlanta Social Football games under their belt now, the scores are getting higher. Week 1 of the Spring AFLS season saw the Grey Ghosts score over 100 points in 4x10 minute quarters and this past week the Green O'Paddys went close to topping 100 points as well.
The AFLS game is designed actually to be high scoring, so lots of fun, so we are hopefully doing it right for social sport in Atlanta. The field being just 80 yards in length and about 60 yards across, allows the coed teams to move the ball quickly down the field to score, but still needs several clean possessions to make it all happen. With the softer and harder to maybe control Sherrin Rising Star Football when kicking for goal, it does not always mean goals are easy.
So if you are looking to for a different coed sport in Atlanta this game could be for you. First game is free to try with no obligations and we even accept drop in games if a pickup sport is what you are interested in here in Atlanta. We hope to see you out there soon playing AFLS - Social Aussie Rules Football.