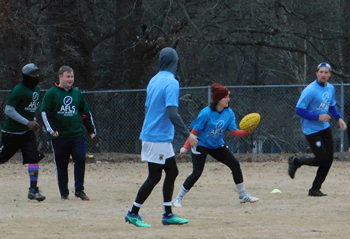 Coed Atlanta AFLS social Aussie Rules football, the game anyone can play, continues to bring people out from around Atlanta to try this fun active coed sport. The games played at NH Scott Park in Est Atlanta mosts seasons, and are free to try each week. So if you are looking for a social sport in Atlanta that is a little different you are welcome to come down and try Social Aussie Rules Football.
This is a totally non tackle, 100% safe game and we've had young teenagers play right through to 60 year old active seniors.
AFLS footy is a game that combines other sports like Basketball, Soccer, Track, Football and Volleyball. If you have played Soccer or Ultimate Frisbee games then you will star at this game as they are very similar in set up. The main difference is the scoring, which is just like AFL football from Australia, you get six points for kicking a goal through the two middle posts and one point for missing to each side. Yes, Aussie Rules Football is probably the only sport in the world where you score something for missing!!
So come down and enjoy this amazing Social Coed Sport in Atlanta each Saturday through Spring or Summer seasons. We assemble at 10.15am to have a kick and help 1st timers learn some rules and skills before the game starts soon after. And yes there is always someone there to show you the basics to get you going. Takes just 5 minutes to learn and you are off and running playing Social Coed Aussie Rules.