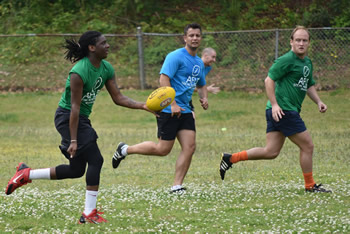 We have been unlucky to have been rained out in our past three Atlanta Coed sports games this December. But not to worry we have 6 dates booked for Social Games in Atlanta beginning January 5th at Grant Park.
So we are crossing our fingers and toes that all these social games go without weather issues. The games can be enjoyed here in Atlanta by anyone that wants to play a fun social team sport and really there are not too many reasons anyone can play. Players in the past have been aged 10 - 60 years old. We believe the coed games best suits those 13 years and older, but if your child is younger and sporty, sure bring them along to try it out.
These are totally non tackle, not contact games and 100% safe to play, making it an ideal Social Sport here in Atlanta for the whole family. So join us one Saturday in January at Grant Park just near the recreation center for a fun Atlanta team sport you will love.