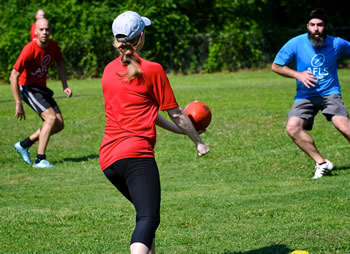 The next 6 games of our Atlanta Social Sport, AFLS - Social Australian Rules Football, will be at Grant Park Atlanta. The move will bring a better field surface and amenities, so plenty of positives as we look to grown the social aspect of this Atlanta social league.
If you are interested in Pickup Sport in Atlanta then this is for you. The first game of AFLS is always free so come down with some friends and try it out. We supply everything including water and snacks afterwards as well as putting on a few friendly drinks afterwards at the Kirkyard Pub in Kirkwood. You can join the league or play when you want, the option is yours.
All you need is some active wear and at least some running type shoes. Cleats can help but are not entirely needed unless the field is a little damp.
Social Aussie Rules Football is a modified game of AFL football, Australia's #1 sport. No Australia's #1 sport is not rugby, never has been. Atlanta Social Aussie Rules football is fun, 100% safe with no tackling or contact permitted and all rules are designed to make the game safe for everyone. The players that have participated in the last year have been aged from 10 to 60.
So reach out to us and let us know you are interested. You will not regret it. Great fun, social sport with friendly people to meet.