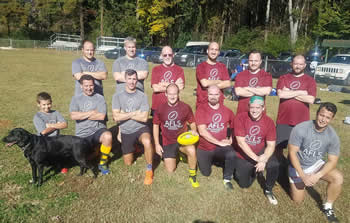 The Season 3 of Social Aussie Rules Football kicked off Saturday with a very close game and the Burgundy team came back from the depths to snatch victory in the last quarter. With several new players experiencing an Australian Rules Football game for the first time, as the game progressed they really got the hang of things and had a huge impact.
Final scores were Burgundy Bottlers 6.10.46 to the Grey Geese 7.2.44
Important:
Games 2 thru 7 will now be played at Grant Park Rec and you can use the link on the side to map it, but it is where the Kookaburras have played before.
We welcome everyone to come out and get some winter fitness going. This is a fun safe game, that anyone can play ...and be good at.