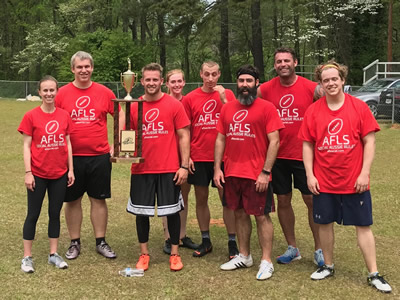 In a unsurprising result the Red Coed Atlanta team lead by Chris Drick took out the inaugural 2018 season of AFLS in Atlanta by 24 points. With somewhat solid core group of players that regularly attended weekly games, the Reds went through the entire season undefeated and were crowned last Saturday with the new Kookaburras AFLS/AFLX trophy.
Runners-up were Paul Balding's Black shirts, who were gallant in defeat and were able to secure 4 wins in the 6 game regular season. Afterwards the players enjoyed drinks at a pub in Kirkwood, fast becoming the home of Coed sports in Atlanta AFLS and AFLX, for players post game refreshments.
During Season #1 of of our new Coed Social Aussie Rules football program 50 players participated in the 7 games with 25 of those trying Aussie Rules Football for the first time. Season #2 will commence with an all comers free day on May 5th. Be sure to sign up with the early bird discount of $45 on the www.aflsocial.com website.